Starting a business in Nigeria is a brave fit because the market is volatile.
While every business has an opportunity to make a profit; the key to running a Top selling business in Nigeria is location and demand, among other factors.
Nigeria's population count guarantees a large market for varying products and services.
Yet not all businesses fare well in Nigeria.
As a budding entrepreneur, you need to take calculated risks.
I saw this meme on WhatsApp and it made me laugh.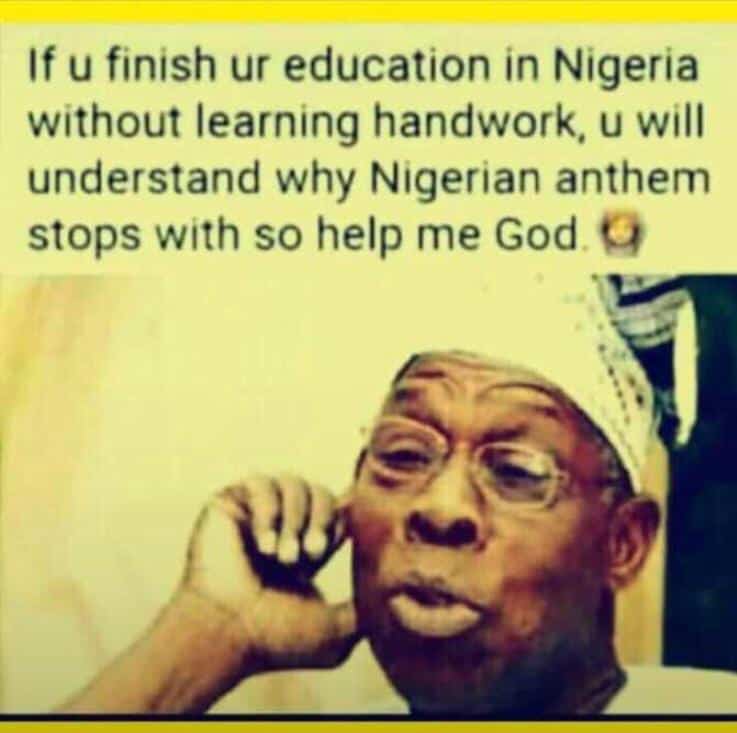 With the struggling employment rates in Nigeria and the additional heat from the pandemic, more and more entrepreneurs are on the rise in Nigeria.
Some markets are likely to be overcrowded. It depends on your location and the products and services that stand in high demand.
Whether you plan to venture into product or service, within every market, some sectors are profitable and require less risk.
Now you cannot totally eliminate risk but you can minimize it.
Here are 10 Top-selling Businesses in Nigeria and how to set them up.
Recycling
This is one business in Nigeria that is greatly underrated. I was talking to a friend who at one time worked with Prudential Zenith, and he was explaining how a particular client was always on time with her weekly 20k savings plan then he burst my bubble when he said that the lady was into recycling. He further stated that "I work in a bank and I don't have that kind of spare cash".
I can bet that if you had to rate the big shots in your neighborhood you probably won't imagine that dirty guy that wears the same shirt day in and out as far up the financial ladder than you.
How to set it up?
Large bags, Collection bins at strategic locations with recycling logo, a truck to move your collection, and a ready customer like Akeem Nigeria Limited.
Financial capital needed and starting cost
| ITEMS | PRICE RANGE (N) |
| --- | --- |
| 1KG of pets | 65 – 75 |
| 1 bale of pet (At N65 per pet) | 9,750 |
Sales forecast
| CASE STUDY | QTY IN KG (per Month) | UNIT PRICE | TOTAL PRICE |
| --- | --- | --- | --- |
| Get a bale per day | 4,500 | 65.00 | 292,500 |
| Get a bale per week | 600 | 65.00 | 39,000 |
| Get a bale per month | 150 | 65.00 | 9,700 |
Other essential tips
Pre-sales Considerations
Bottles are sold in bales
Bottles should be clean and clear
Pets don't have fixed market prices
Pets are sold per the number of KG in a bale
There are averagely 150-200 KG of pets in a bale
1KG consist of about 30-35 pet bottles
An average bale will consist of 4,500 pet bottles
Roadside Food Vending
Too bad I can't find the link to this inspiring video of a chef who decided to sell small chops by the roadside in Lagos. He quit his job to fry buns at a busy market area. What gives him the edge is his years of experience as a professional chef, so he kept his customers coming back for more. This job may seem embarrassing to some, but he built his house selling small chops. You can't argue with that level of returns.
How to keep this business successful?
First, find a good location. Keep it simple, keep it neat. Food is very delicate. If words go around that someone got sick after eating your meal, it's disastrous.
Financial capital needed and starting cost
| | |
| --- | --- |
| ITEMS | COST |
| Tables (2 at most based on space) | N6,000 |
| Frying pans, gas cylinder, bowls and utensils | * |
| Ingredients | N4000 |
| Bags and serviettes (depends on your choice of package) | N2,000 |
| TOTAL | N12,000 |
These prices are subject to change based on markets near you.
Other essential tips
Start with samples. Be open to feedback and then increase the quantity. Don't have the tools needed to function full time, you can prepare the food from a different location. This time you'd need a ready client base, that is the customers anticipating your delivery at a specific time, as small chops like most snacks are best served hot.
Agriculture
Now every aspect of agriculture is profitable. For real. I met a guy who recycles feces—human feces for manure. Yes!
I can't stomach that bit. But I can't argue with his money. My mum used to say it's the eyes that fear work. She says this about jobs that require getting your hands dirty. This statement is especially true when you venture into agriculture. You have to be ready to do the dirty work.
But the most challenging thing with agriculture is space.
A friend of mine leases lands and also assists people in setting up and maintaining their farms. One other way is a good backyard. If you live in a choked up neighborhood finding a land to lease could be your best option. Here's one method less often spoken of – Crates. If your house is cemented or the land is not good for farming, you could farm vegetables from flower pots and crates.
Or better still a greenhouse. Oh, you'd need space for that.
How to keep this business successful?
You'd need a network of clients and you can do this ahead of your harvest. Restaurants and traders are always in need of good produce and you can be sure to find a ready market when it comes to vegetables.
Materials needed and starting cost
Setting up a greenhouse, would cost about 50k to 100k and can possibly give you 40k to 50k weekly harvest.
Clothing
Like agriculture, clothing is a necessity. People shop for different reasons. Apart from being a basic need people shop for clothes to look good and because clothes fade out there's a need to quickly replace the old ones especially children's secondhand clothes.
'Recession or not, brides must look beautiful' I heard this line during Skill Acquisition and Entrepreneurship Development (SAED) lectures in NYSC camp. The lady owns a studio and sold beauty products. The fashion industry is one industry that would always thrive even in war. For real though. During the great depression, button making was a thriving industry. Buttons. Can you believe that?
Thinking of becoming a SAED TRAINER? SEE Requirements
Well, we are past the depression and the fashion and beauty industry is back in business. But one particular sector seems to be thriving because prices aren't fixed and that's sewing.
Tailors make their money from the strength of their bargain, their reputation and skill.
How to keep this business successful?
There's nothing like a tailor that delivers. Timely delivery and fine finishing are the top qualities people look out for when hiring a tailor.
Financial capital needed and starting cost
| | |
| --- | --- |
| ITEM | COST |
| Sewing machine | N35,000 |
| Cutting table | N6,000 |
| Stool | N1,000 |
| Space (You can start at home) | * |
| Iron | N4,000 |
| TOTAL | N46,000 |
Tokunbo Cars (Foreign used)
Selling tokunbo cars is very lucrative and requires little or no specialized education to be able to flourish in this business.
Tokunbo cars sell daily in the Nigerian market.
Salvaged/accident cars are sold very cheaply abroad, so it's a good place to invest and make a good home run.
Tips on Starting Tokunbo business
Source for a car online at auction sites like Auction Export, copart.com etc
Or use an agent abroad to get the car.
There are numerous shipping companies to consider when shipping the car such as Grimaldi, Sallaum etc.
Clear the car at the Nigerian Port.
Fix the damages.
Sell and make your profit.
Other essential tips
Here's a side note, 'First body' cars are in high demand so when buying accidented cars for the first time, avoid cars that would require you have to respray. Also you need a network of quality mechanics that you can trust to fix your car.
Building Materials
Real estate like agriculture is a lucrative business. However, some aspects of the industry would require formal training. The selling of building material requires zero background in architecture.
Sales of building material is a wide market, some deal in sand supply, some in sales of cement, others in nails and roofing material, some sell paints and others sell fittings for bathrooms and toilets. it comes down to your area of interest.
Alternatively, you could branch out into importation. The minimum cost for importation is N10million.
| | |
| --- | --- |
| ITEM | COST |
| 20 feet container | 5 million |
| 40 feet container (Cost may vary based on product ) | 10 million – 40 million |
Other Essential Tips
Get a contact or supplier.
Get space. Shop rents could range from N250,000 depends on real estate rates in your area.
Advertise your product.
Add your profit margin.
You could start out with as little as N500,000 but it won't be in imports. At most you buy from importers and resell.
If you opt for import, note that you'd also need a warehouse for storage.
IMPORTANT: Importers opt for 40feet containers instead of 20feet because of the losses incurred.
Pure water
Unlike other businesses listed here, this is not as small scale as setting up a greenhouse. You'd require a property, drilling a borehole, buying machines and materials for packaging. A delivery van and a few staff.
Financial capital needed and starting cost
ITEMS
Automated packaging machine
Drill a borehole
Tanks
Treatment plant
Delivery truck
NAFDAC Approval
Other essential tips
Your location should be conducive and hygienic. With good maintenance and quality delivery, this business will thrive in Nigeria.
Dry Cleaning
This business is very lucrative. People always need help covering the little task that make their lives comfortable. Ironing, washing and dealing with stains.
That's right.
You'd need an ironing board, backup power supply, Washing machine, provision for dryer and of course basins and cleaning agents.
ITEMS
COST (N)
Space (You can start from your house if it's convenient)
water supply
(A great factor to consider if the water is a challenge in your neighborhood)
Backup Generator
(Estimated cost is set for new 5KVA alternatively you could get a second-hand product for less)
192,000
Washing machine
55,000
Pegs, Hangers (2 sets) and ropes
Bags (could be branded)
Iron and ironing table
10,000
shelf (Wood)
7,000-15,000
Other Tips
Consult with your washing machine vendor before concluding on generator capacity. Also, your shelf could have a glass display. The basic thing is to have a sturdy space to store dry-cleaned clothes.
Ushering
This business hardly requires anything to start.
A business plan and a knowledge of ushering etiquette.
Start with small contracts from a friends wedding or family burial and build your reputation upward.
Be creative. Going an extra mile to train and retrain your team members is a bonus for your business. The better your reputation, the better your business referrals.
Since your staffs are on contract, you won't need to bother about salaries and other employment hassle.
Get active with social media.
Event Catering
Catering is one of the top selling business in Nigeria.
Can't have gathering without food.
Catering for large events requires a lot of technicalities. It's not enough to know how to cook, having the capacity to cater to the crowd is just as important.
As much as caterers get a bad rep for stealing food, we still can't do without them.
To start you need a kitchen.
It's great if you can handle the cooking, but you don't have to. You can set up a business and find a master chef to handle the cooking. Most kitchens operate as a restaurant. This provides income sources for your business in and out of season. But adding a restaurant comes with its own challenges.
Some events would provide a space to cook but there's nothing like an equipped kitchen designed to your taste.
If you can handle large and varied menu but lack the capital to set up a fully equipped kitchen, you'd find that there are local stores that rent out cooking equipment for large events. also consider hiring help every time you have a project. Downside is you'd be losing on profit.
It all boils down to planing. Take a quick market survey in your local market and compare rental prices within your region.
For more tips on businesses in Nigeria, SEE: Most Lucrative Farming and Business Opportunities in Nigeria
Top Tech Businesses in Nigeria
Digital Marketing Agency
Digital marketing entails marketing product and services across digital space. It could run offline or online.
However, this post is focused on online marketing.
Many business in Nigeria are trying to convert from traditional marketing into the digital space. Most of them don't get
While you can earn just fine with any of the skill set required in online marketing, corporate businesses are sorting for a digital marketing agency to handle their marketing needs.
A background in marketing helps regardless, you may need to read up on:
Building landing pages
Designing ads
Constructing messaging and positioning
Learn Marketo, HubSpot, and Salesforce
Properly implementing tracking
Spending hours on a promotion just to watch it fail
Substantial pressure to produce
Getting Started
Find your marketing niche: There are varying businesses in Nigeria and each business model has unique requirements. Know the business models that work best with you and stick to it.
One major skill required for Social Media Marketing is Content/Copywriting.
At a small scale, learning this skill would help you save cost.
Content writing involves generating all types of information for blogs, white paper and Social media. It was listed as one of ten jobs that would be in high demand in 2020.
2. Start out as a contractor: You can start by contracting experts for the various roles required per contract. This would afford you a chance to learn on the go.
How to develop your writing and other skills
With online learning, you could find a dozen self-help tutorials on YouTube, Udemy and Coursera.
Another easy way to grow your marketing agency is to join an active group with other content marketers. Don't know any? It's easy to find experts on Linkedin and Twitter. Follow these handles, engage their post, send a DM and build a working relationship.
You'd be amazed at how much help is available out there.
Requirements
A laptop, power supply and access to the internet and of course a network of experts.
Product Manager
Although this is a professional role, Product Management counts as a high in-demand skill, and you don't need a prior background in tech to begin.
Product managers own the business strategy behind a product (both physical and digital products), specify its functional requirements, and generally manage the launch of features. They coordinate work done by many other functions (like software engineers, data scientists, and product designers) and are ultimately responsible for the business success of the product. (Wiki)
What Does a Product Manager Role Entail?
The responsibilities of a product manager varies but may include:
Manage from concept, to design, sample production, testing, forecast, cost, mass production, promotion, support, and finally, product end of life.
Delivers the operating plan: the achievement of growth objectives, including market share, revenue, profit, and return on investment for all the channels/categories of business and/or key customers.
Responsible for managing and implementing marketing activities through research, strategic planning, and implementation.
Where to Begin
An MBA and other higher degree would help you get hired, but like most new professional job roles, you would need a few professional courses in other to excel in this field.
Check out this list of professional courses and their cost. HERE
Online Tutor
You'd be amazed at the number of Nigerians that teach online.
From English tutors for second language learners to tech subjects, business and lots more.
You could create a platform for online learning and grow it like any SME. Just maybe it could be the next biggest business merger in Nigerian tech space.
Don't have the cash to invest? Register on any of the following platforms or start a monetized Youtube channel.
SayABC
Udemy
Coursera
Music Producer
Shakespeare said if Music is the food of love, play on that sufficing the appetite sickens and dies. But he was wrong, the appetite never dies as long as producers keep introducing new beats and sound dynamics.
Reggae had it's day, Soul music too. Afro beats and juju music; each sound seem to define an era. As for anyone that can master the sound in its season, that sound would come to define the generation.
What this means is that, people would pay heavily to hear your sound.
I've watched my brother play around with music beats and I have to say it's not that hard if you have the ear for it. Plus, the industry pays better for beats that run 4-6 minutes on an average.
You'd need a really good system with a fast processor and a digital audio work station. Headset and loads of free time to practice. That's why this skill is best practised while you are young with zero responsibilities.
Recommended Digital Audio Workstation
D.A.W is FL Studio. It has a more flexible interface which enables me to interpret my thoughts exactly how it is in my head. It's what I started with – CrackerMallo
Logic Pro
Ableton Live
Freelance and Remote Work
That's the future of work, a friend said to me , shortly after he asks me to let him know of any remote work opportunities.
Many modern work skills can be done remotely. it's fair to call it a business without the stress of setting up a regular business.
No business name required.
Plus you get to work with unlimited employers.
The dynamics of remote work vary from business to business. Some would require showing up in an office as little as once a week but with others, you only meet your contractor over zoom!
Platforms as Fivre, Upwork and LinkedIn are great options to get hired. It boils down to how well you sell your skill.
Conclusion
Top-Selling/Hot Businesses in Nigeria offers insight into a range of business ideas that are marketable and also advises on business cost and other risks. I hope this post will help you make informed business decisions.